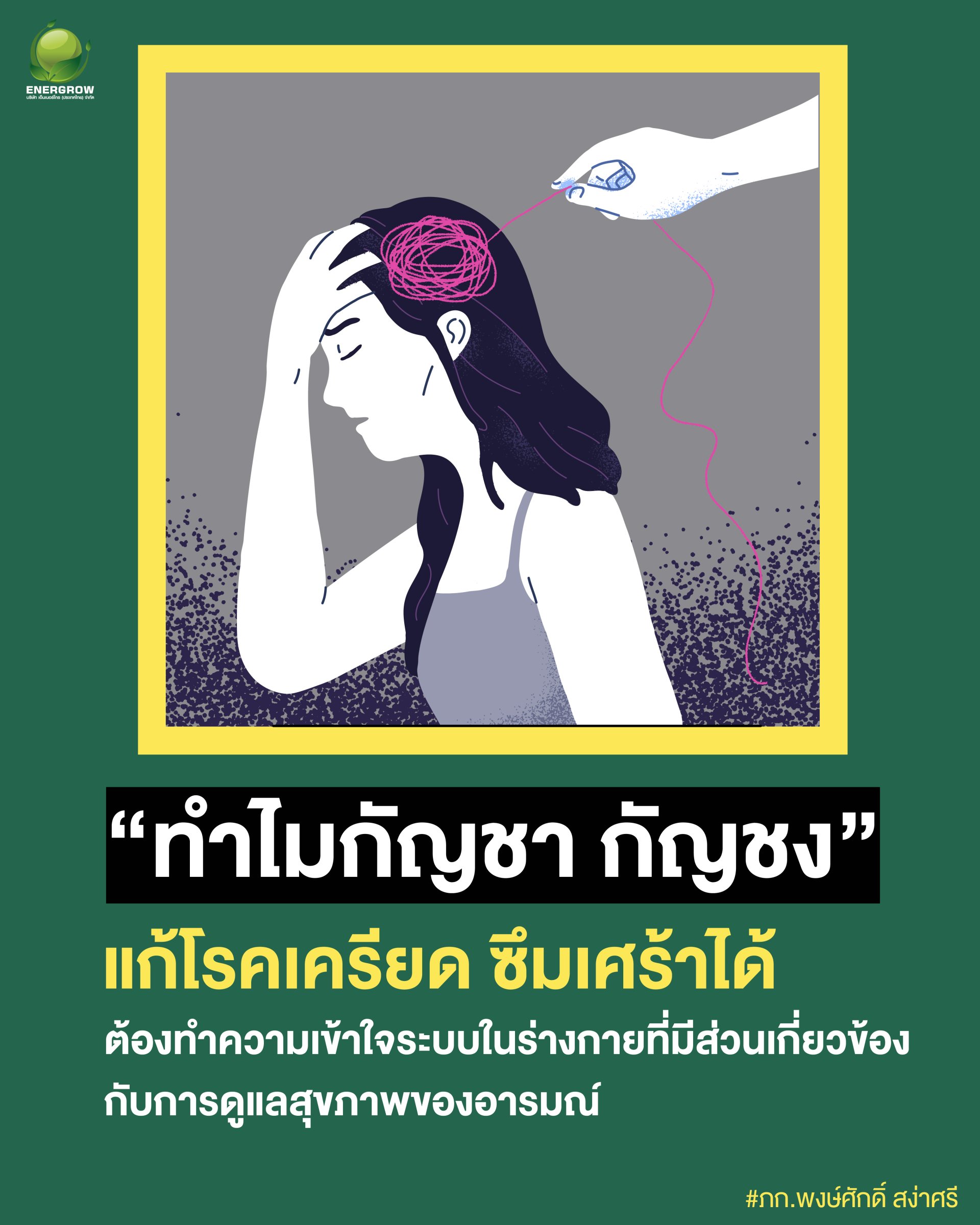 Cannabis, cannabis, relieve depression, relieve stress? According to reports of people who have used it before First you need to understand the system. in the body related to emotional health care Can it reduce depression? You have to understand your body first. when you are stressed or depressed What will happen to your body? Abnormal functioning of the body or any system in the body Or what neurotransmitters are in the body? causing stress, depression, etc.
Currently, it has been discovered that The neurotransmitter serotonin It is a neurotransmitter involved in the emotions and feelings that occur in the human body. It was also found that the endocannabinoid system is involved in the action of this neurotransmitter serotonin. that means Emotions and feelings of people that occur. The endocannabinoid system plays an important role in regulating or balancing.
stress or depression It is a condition in which the neurotransmitter serotonin is involved. And as a result, the use of chemical drugs that have the effect of controlling the amount of this neurotransmitter. in order to remedy the condition of the disease. But with chemotherapy there are side effects. Makes the use of alternatives in various types of herbs to increase even more. The phytocannabinoids from cannabis, hemp is one of the herbs that have been reported in use in the past and present. and found properties to reduce stress, help to relax.
But with the substance THC, which is found in cannabis It often has properties that affect many types of neurotransmitter systems. And if not used, it will affect those who have already had symptoms. have moods that can easily change up and down Therefore, it is not commonly used in this condition, but CBD, which is found abundantly in cannabis or hemp, tends to have a relatively better effect in those who suffer from these conditions. or to put it simply,
If THC is used in this group of people, their mood swings are more or less intense or more intense. Making it not popular for use, but for CBD usually does not surge. give the mood a gradual adjustment More aesthetically, which in this case is different from the euphoric mood that comes from smoking marijuana that contains THC.
In terms of use for the benefit of those who are stressed or depressed, it is often recommended to start With more CBD-rich phytocannabinoids, I start with THC and use it according to the principles I wrote in my book 82 Stances Cannabis, Hemp, Kills Cancer: Start Slow and Go Slow, so the question. Why cannabis, hemp, can cure stress or depression? This is because both cannabis and hemp contain CBD that acts on the neurotransmitter serotonin. which is an important neurotransmitter involved in the emotions and feelings associated with the condition itself.
In addition, CBD binds to more receptors than the CB1 and CB2 receptors, resulting in CBD being a very useful substance in every body system. Because the endocannabinoid system works perfectly, it must work with other receptors as well. Not just their own receivers.
Phongsak Sangasri.

interested
hemp extract
hemp seedlings
hemp oil
Contact sales at
089-449-7186 ,089-497-9681
Contact
Line Id : @energrow.th
Instagram : https://www.instagram.com/energrowthailand
Facebook : https://www.facebook.com/energrowthailand
Website : https://www.energrowthailand.com
Tel : (02)184-2552 Fax : (02)944-4693